Aliens are enemies who appear only in specific waves in Ultimate Omelette and Cluck of the Dark Side.
Attacks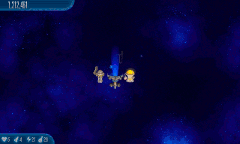 Aliens attack by shooting a blue laser to the bottom of the screen, before which a dotted line appears to warn you. The laser tapers out as it goes on. They are unable to use this attack in Wave 98 in Cluck of the Dark Side. There, they just fly around.
Appearance
Aliens reside inside the cockpit of their saucer. They have a long neck, an eye, and two antennae on their heads, with their other body parts being hidden. They always attack inside the saucer. After depleting half of their health, their saucer begins to spin frantically, and the glass part gets broken.
The Editions do not alter them.
Encounters
They appear in two waves in Ultimate Omelette, and three in Cluck of the Dark Side. They have 1250 + 250 * chapter health and they give 9999 points after being destroyed. Once they are destroyed, the Alien doesn't survive and the saucer starts to fall. You then also receive a big Coin. The falling saucer has 1400 health. For extra points, you can attempt to destroy the falling saucer, which will net you 1337 points. In Ultimate Omelette, Aliens are strong against the Bird-Flu Gun, and weak against the Lightning Fryer. In Cluck of the Dark Side, they also become strong against the Corn Shotgun. Aliens, like other enemies, may occasionally Powerups and Keys upon death.
Trivia
Aliens could be considered to be the successors of the UFOs, as they both control saucers. The aliens in the UFOs however aren't ever seen.
V • E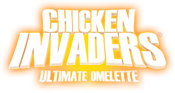 Items
Powerups
Ion Blaster Gift • Neutron Gun Gift • Laser Cannon Gift • Vulcan Chaingun Gift • Lightning Fryer Gift • Plasma Rifle Gift • Utensil Poker Gift • Boron Railgun Gift • Photon Swarm Gift • Positron Stream Gift • Atomic Powerup
Food
Drumstick • Twin Legs • Roast • Single Burger • Double Burger • Triple Burger • Quad Burger
Other
Coin • Key
V • E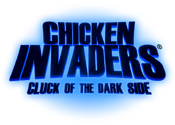 Items
Powerups
Ion Blaster Gift • Neutron Gun Gift • Laser Cannon Gift • Vulcan Chaingun Gift • Lightning Fryer Gift • Plasma Rifle Gift • Utensil Poker Gift • Boron Railgun Gift • Photon Swarm Gift • Positron Stream Gift • Hypergun Gift • Riddler Gift • Corn Shotgun Gift • Atomic Powerup
Food
Drumstick • Twin Legs • Roast • Single Burger • Double Burger • Triple Burger • Quad Burger • Popcorn
Other
Coin • Key • Pollen • Artifacts • Humanity's Greatest Fan