Bird-Flu Gun is one of the four Satellites introduced in Ultimate Omelette. It's a "highly-restricted biological warfare weapon". In Ultimate Omelette, it's unlocked in Chapter 3 (unless the Satellites Rush unlockable is in use).
Appearance
It's a green liquid container surrounded by two springs. It has a cone shaped metal part on the top, out of which the green liquid is shot.
Strategy
Supply is limited, as it has only 15 shots for use before disappearing, but it is capable of infecting several enemies within its blast radius. The enemy who is directly hit with the weapon will take 1000 damage. The weapon will also create an AoE effect. Near the center, it will deal 500 damage, and the further from it is from an enemy, the less damage it will receive. For the best results, fire this satellite manually, as its automatic re-fire rate is quite slow. Being a biological agent, it's most effective against unarmored opponents, as it's able to deal those enemies 25% more damage. Remaining ammunition is indicated by the level of the green liquid in the satellite. It's better to use this weapon on groups of enemies, especially multi-part bosses, such as the Ice Golem.
In Universe, it can be bought for 833

. As with other satellites, it's available for a cheaper price at Heroware stores.
Pros
Effective against unarmored enemies.
Very effective against multi-part bosses, such as the Alien Mothership or the Ice Golem.
Cons
Slow re-fire rate.
The projectile is somewhat slow.
It's a member of the Organic group, so it has its weaknesses and strengths.
Weakness of:
Ordinary Chicken
Pilot Chicken
Metal-suit Chicken
Chick
Strength of:
Gallery
V • E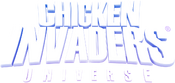 Collectibles
Powerups
Ion Blaster Gift • Neutron Gun Gift • Laser Cannon Gift • Vulcan Chaingun Gift • Lightning Fryer Gift • Plasma Rifle Gift • Utensil Poker Gift • Boron Railgun Gift • Photon Swarm Gift • Positron Stream Gift • Hypergun Gift • Riddler Gift • Corn Shotgun Gift • Atomic Powerup
Food
Drumstick • Twin Legs • Roast • Single Burger • Double Burger • Triple Burger • Quad Burger • Popcorn
Other
Coin • Key
V • E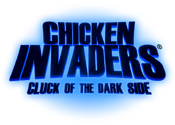 Items
Powerups
Ion Blaster Gift • Neutron Gun Gift • Laser Cannon Gift • Vulcan Chaingun Gift • Lightning Fryer Gift • Plasma Rifle Gift • Utensil Poker Gift • Boron Railgun Gift • Photon Swarm Gift • Positron Stream Gift • Hypergun Gift • Riddler Gift • Corn Shotgun Gift • Atomic Powerup
Food
Drumstick • Twin Legs • Roast • Single Burger • Double Burger • Triple Burger • Quad Burger • Popcorn
Other
Coin • Key • Pollen • Artifacts • Humanity's Greatest Fan
V • E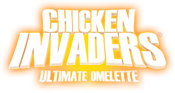 Items
Powerups
Ion Blaster Gift • Neutron Gun Gift • Laser Cannon Gift • Vulcan Chaingun Gift • Lightning Fryer Gift • Plasma Rifle Gift • Utensil Poker Gift • Boron Railgun Gift • Photon Swarm Gift • Positron Stream Gift • Atomic Powerup
Food
Drumstick • Twin Legs • Roast • Single Burger • Double Burger • Triple Burger • Quad Burger
Other
Coin • Key