Earth is the Hero's and every human's home planet. It's also the main target of every Chicken invasion.
It's located in the Solar System, which is located in the Milky Way. A Space Burger store is orbiting it.
Chickens have tried to take over or destroy it five different times now, but the Hero managed to defeat them and save it every time it was attacked. In Cluck of the Dark Side, the Hero has visited the surface of planet to mount the Humanity's Greatest Fan. The Chickens in the meantime have taken over at-least a part of it, and built the Hen House, which was destroyed before the Hero mounted the Humanity's Greatest Fan there.
After the events of Cluck of the Dark Side, its orbit was slightly perturbed.
You can watch a tour of the planet in Cluck of the Dark Side here.
Gallery
Trivia
Most renders of Earth are centering around the Atlantic Ocean. The close up renders of it in Chicken Invaders (DX Version) and The Next Wave center around the Americas, and the far away render in The Next Wave focuses solely on Europe and Africa. Antarctica has so far been only visible in Chicken Invaders and Revenge of the Yolk renders, while Australia and Oceania have never been featured.
In the first few versions of The Next Wave, Earth was on accident mirrored.
The Moon almost never appears in Chicken Invaders games, with only exception being its appearance in Revenge of the Yolk in the cutscene for Chapter 12. The reason for this is because it always happens to be out of view below Earth.
V • E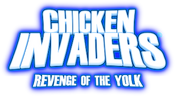 Characters
Playable
The Hero
NPCs
Narrator
Items
Powerups
Ion Blaster Gift • Neutron Gun Gift • Laser Cannon Gift • Vulcan Chaingun Gift • Lightning Fryer Gift • Plasma Rifle Gift • Utensil Poker Gift • Atomic Powerup
Food
Drumstick • Roast • Single Burger • Double Burger • Triple Burger • Quad Burger
Other
Coin
V • E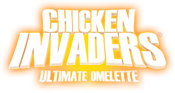 Items
Powerups
Ion Blaster Gift • Neutron Gun Gift • Laser Cannon Gift • Vulcan Chaingun Gift • Lightning Fryer Gift • Plasma Rifle Gift • Utensil Poker Gift • Boron Railgun Gift • Photon Swarm Gift • Positron Stream Gift • Atomic Powerup
Food
Drumstick • Twin Legs • Roast • Single Burger • Double Burger • Triple Burger • Quad Burger
Other
Coin • Key
V • E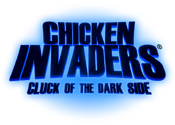 Items
Powerups
Ion Blaster Gift • Neutron Gun Gift • Laser Cannon Gift • Vulcan Chaingun Gift • Lightning Fryer Gift • Plasma Rifle Gift • Utensil Poker Gift • Boron Railgun Gift • Photon Swarm Gift • Positron Stream Gift • Hypergun Gift • Riddler Gift • Corn Shotgun Gift • Atomic Powerup
Food
Drumstick • Twin Legs • Roast • Single Burger • Double Burger • Triple Burger • Quad Burger • Popcorn
Other
Coin • Key • Pollen • Artifacts • Humanity's Greatest Fan