Feathers are one of the obstacles that appeared in Ultimate Omelette and Cluck of the Dark Side. They are huge versions of feathers the Chickens leave. They can't be destroyed with normal Weapons, requiring the use of a Bomb or a Missile.
Attacks
Feathers can't attack on their own, but they are still dangerous, as regular weapons can only push them.
Appearance
They are huge feathers of varying sizes. The ones from Ultimate Omelette are white, while the ones from Cluck of the Dark Side are black.
Editions do not alter them, except for the Thanksgiving edition, which turns them into turkey feathers.
Encounters
Ultimate Omelette
Feathers are found in the first eight waves in The Feather Fields of Yolkon-7 chapter. In Waves 31, 32, 34, 35, 37, and 38, they appear along with three bombs, while Waves 33 and 36 add Chickens to the mix. They have a Coin inside of them, which is released when you push them with your weapon. They have 100 health, but they are invulnerable to regular weapons. Only Bombs and Missiles are capable of destroying them, upon which you receive 999 points.
Cluck of the Dark Side
Feathers in this game are used as a major plot point, as the Henterprise uses them to block out the Sun's light so that Earth will freeze over. They are only used in three encounters with the Henterprise as an attack. They are still invulnerable to regular weapons, but since Bombs don't appear along with them, only Missiles can destroy them. They are now worth only one point.
V • E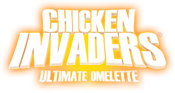 Items
Powerups
Ion Blaster Gift • Neutron Gun Gift • Laser Cannon Gift • Vulcan Chaingun Gift • Lightning Fryer Gift • Plasma Rifle Gift • Utensil Poker Gift • Boron Railgun Gift • Photon Swarm Gift • Positron Stream Gift • Atomic Powerup
Food
Drumstick • Twin Legs • Roast • Single Burger • Double Burger • Triple Burger • Quad Burger
Other
Coin • Key
V • E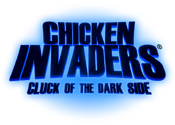 Items
Powerups
Ion Blaster Gift • Neutron Gun Gift • Laser Cannon Gift • Vulcan Chaingun Gift • Lightning Fryer Gift • Plasma Rifle Gift • Utensil Poker Gift • Boron Railgun Gift • Photon Swarm Gift • Positron Stream Gift • Hypergun Gift • Riddler Gift • Corn Shotgun Gift • Atomic Powerup
Food
Drumstick • Twin Legs • Roast • Single Burger • Double Burger • Triple Burger • Quad Burger • Popcorn
Other
Coin • Key • Pollen • Artifacts • Humanity's Greatest Fan