The Hero is the unnamed, player-controlled protagonist in the Chicken Invaders episodes. He deeply hates the Chickens, Despite that, he really loves food that includes chicken meat, like chicken burgers and chicken wings. He is always seen piloting his Müller M404-PI Deliverer, but it's not known how he really looks like.
History
Chicken Invaders (DX Version)
In Chicken Invaders (DX Version), the Chickens attempt to invade and take over Earth. The Hero witnesses this and drives the chickens away. He attempts to eat at the local Space Burger store later, but the Chickens come back with another invasion right away. Back then, he used the Ion Blaster as the default weapon.
The Next Wave
In this game, the hero repels the second attack of the Chickens and confronts the Mother-Hen Ship. The Mother-Hen Ship manages to escape twice, but on the third encounter, the Hero removes its eggshell barrier and destroys it, securing Earth's safety again. On his way, a Cop gave him a fine, since he was travelling too fast.
Revenge of the Yolk
The third game involves the Chickens creating a weapon of mass destruction known as The Yolk-Star™. After going through the entire galaxy, the hero manages to return to the Solar System and destroys it.
Ultimate Omelette
The fourth game again has the Chickens trying to destroy Earth. This time, they built a machine called the Egg Cannon (a.k.a. the Vitelline Molecular Propulsor, as mentioned by Hen Solo). However, after the hero goes through several portals and explores many galaxies different from his own, he manages to get back to the Solar System just in time and destroys the Egg Cannon.
Cluck of the Dark Side
In this game, a chicken-built spacecraft known as the CK-01 Henterprise spewed feathers near the Sun that blocked sunlight from reaching Earth to freeze it over. Luckily, the Hero manages to blow the feathers away using the Humanity's Greatest Fan, and later destroys the Henterprise.
Trivia
The Hero made his first appearance in Chicken Invaders (DX Version). In the game preceding it, the player instead controlled a handgun.
V • E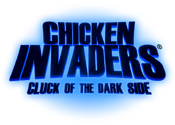 Items
Powerups
Ion Blaster Gift • Neutron Gun Gift • Laser Cannon Gift • Vulcan Chaingun Gift • Lightning Fryer Gift • Plasma Rifle Gift • Utensil Poker Gift • Boron Railgun Gift • Photon Swarm Gift • Positron Stream Gift • Hypergun Gift • Riddler Gift • Corn Shotgun Gift • Atomic Powerup
Food
Drumstick • Twin Legs • Roast • Single Burger • Double Burger • Triple Burger • Quad Burger • Popcorn
Other
Coin • Key • Pollen • Artifacts • Humanity's Greatest Fan
V • E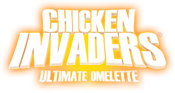 Characters
Playable
The Hero
NPCs
Hen Solo • Narrator
Items
Powerups
Ion Blaster Gift • Neutron Gun Gift • Laser Cannon Gift • Vulcan Chaingun Gift • Lightning Fryer Gift • Plasma Rifle Gift • Utensil Poker Gift • Boron Railgun Gift • Photon Swarm Gift • Positron Stream Gift • Atomic Powerup
Food
Drumstick • Twin Legs • Roast • Single Burger • Double Burger • Triple Burger • Quad Burger
Other
Coin • Key
V • E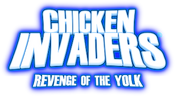 Characters
Playable
The Hero
NPCs
Narrator
Items
Powerups
Ion Blaster Gift • Neutron Gun Gift • Laser Cannon Gift • Vulcan Chaingun Gift • Lightning Fryer Gift • Plasma Rifle Gift • Utensil Poker Gift • Atomic Powerup
Food
Drumstick • Roast • Single Burger • Double Burger • Triple Burger • Quad Burger
Other
Coin