ICBM (also known as ICBM Rocket) is one of four Satellites introduced in Ultimate Omelette. In that game, it's unlocked in Chapter 4 (unless the Satellites Rush unlockable is in use).
Appearance
It consists of three decommisioned ballistic missiles from the Cold War.
Strategy
This Satellite lets you harness the power of a Missile, though it's not as strong as one. It's quite ineffectual against single targets. The enemy that is directly hit by an ICBM will receive 5,000 damage. Upon exploding it will also create an AoE effect. Near the center, it will deal 1,000 damage. The further an enemy is from the center of the explosion, the less damage they will receive. Its blast radius is exceptionally large, allowing you to damage dozens of enemies at once. ICBM rockets unfortunately travel very slowly, so their strategic use is of prime importance.
It's better used on large waves with multiple enemies, as even one missile from it might be enough to kill dozens of enemies very quickly.
In Universe, it can be bought for 816

. As with other satellites, it's available for a cheaper price at Heroware stores.
Pros
Massive damage dealt to enemies
Removes projectiles on the screen.
Large blast radius allowing you to damage multiple enemies at once
Cons
Rockets travel very slowly
Very limited ammo
Slow re-fire rate
It's a member of the Hot group, so it has its weaknesses and strengths.
Weakness of:
Strength of:
Gallery
Trivia
The internal name for this satellite's textures is "rocket".
It used to be able to auto-fire before 0.30BETA.
V • E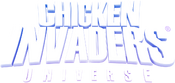 Collectibles
Powerups
Ion Blaster Gift • Neutron Gun Gift • Laser Cannon Gift • Vulcan Chaingun Gift • Lightning Fryer Gift • Plasma Rifle Gift • Utensil Poker Gift • Boron Railgun Gift • Photon Swarm Gift • Positron Stream Gift • Hypergun Gift • Riddler Gift • Corn Shotgun Gift • Atomic Powerup
Food
Drumstick • Twin Legs • Roast • Single Burger • Double Burger • Triple Burger • Quad Burger • Popcorn
Other
Coin • Key
V • E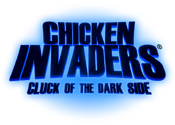 Items
Powerups
Ion Blaster Gift • Neutron Gun Gift • Laser Cannon Gift • Vulcan Chaingun Gift • Lightning Fryer Gift • Plasma Rifle Gift • Utensil Poker Gift • Boron Railgun Gift • Photon Swarm Gift • Positron Stream Gift • Hypergun Gift • Riddler Gift • Corn Shotgun Gift • Atomic Powerup
Food
Drumstick • Twin Legs • Roast • Single Burger • Double Burger • Triple Burger • Quad Burger • Popcorn
Other
Coin • Key • Pollen • Artifacts • Humanity's Greatest Fan
V • E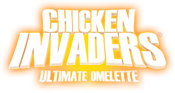 Items
Powerups
Ion Blaster Gift • Neutron Gun Gift • Laser Cannon Gift • Vulcan Chaingun Gift • Lightning Fryer Gift • Plasma Rifle Gift • Utensil Poker Gift • Boron Railgun Gift • Photon Swarm Gift • Positron Stream Gift • Atomic Powerup
Food
Drumstick • Twin Legs • Roast • Single Burger • Double Burger • Triple Burger • Quad Burger
Other
Coin • Key