Jellyfishes are wildlife native to Epsilon Thalassus, who appear only in specific waves in Cluck of the Dark Side. They are ruled by the Jellyfish King, who was hijacked by a Chick. It's unknown if they're actually hostile or not.
Attacks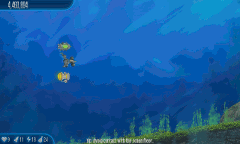 They are unable to attack on their own, but crashing into them is still possible.
Appearance
They are green jellyfishes.
Editions don't change them at all.
Encounters
Jellyfishes appear in three waves - Wave 31, 34, and 40. In Wave 31, they simply swim to the left. In Wave 34, they dive in from the top of the screen and go back up. In Wave 40, they are used as an attack by the Jellyfish King. There, they swim to the left too. In all waves, they appear in, they have 2000 health. In the first two waves they appear in, they give 7000 points upon death. In Wave 40, they only give one point, to prevent you from farming them. They may also drop a Powerup.
V • E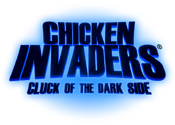 Items
Powerups
Ion Blaster Gift • Neutron Gun Gift • Laser Cannon Gift • Vulcan Chaingun Gift • Lightning Fryer Gift • Plasma Rifle Gift • Utensil Poker Gift • Boron Railgun Gift • Photon Swarm Gift • Positron Stream Gift • Hypergun Gift • Riddler Gift • Corn Shotgun Gift • Atomic Powerup
Food
Drumstick • Twin Legs • Roast • Single Burger • Double Burger • Triple Burger • Quad Burger • Popcorn
Other
Coin • Key • Pollen • Artifacts • Humanity's Greatest Fan