Multipliers are, well, multipliers, by which the weapon damage gets scaled. The only weapon that is never affected by scaling is the Missile from The Next Wave. For the episodes, they are different depending on the Skill, amount of players, and whether you're playing a PC, tablet, or a mobile version. For Universe, they only depend on whether you have the Damage Amplifier or the Tourist skill active. They can also be affected by certain Unlockables. So far only one unlockable affects them, which is Space Ninja. It adds 20% more damage.
Multiplier Table (Universe)
The multiplier table for Universe is far more simple than the one for episodes, as multipliers have been dropped from all skill levels except for Tourist.
| # | Name | Value | Damage Amplifier |
| --- | --- | --- | --- |
| 1. | Rookie | 1x | ✘ |
| 2. | Rookie with Damage Amplifier | 3x | ✔ |
| 3. | Tourist | 1.2x | ✘ |
| 1. | Tourist with Damage Amplifier | 3.6x | ✔ |
Multiplier Table (Episodes)
| # | Name | Value | Players | Space Ninja | Version |
| --- | --- | --- | --- | --- | --- |
| 1. | Rookie PC | 1.0000x | 1 | ✘ | PC |
| 2. | Rookie PC with Space Ninja | 1.2000x | 1 | ✔ | PC |
| 3. | Rookie PC with two players | 0.7500x | 2 | ✘ | PC |
| 4. | Rookie PC with two players and Space Ninja | 0.9000x | 2 | ✔ | PC |
| 5. | Rookie PC with three players | 0.6666x | 3 | ✘ | PC |
| 6. | Rookie PC with three players and Space Ninja | 0.8000x | 3 | ✔ | PC |
| 7. | Rookie PC with four players | 0.5000x | 4 | ✘ | PC |
| 8. | Rookie PC with four players and Space Ninja | 0.6000x | 4 | ✔ | PC |
| 9. | Rookie Tablet | 1.5000x | 1 | ✘ | Tablet |
| 10. | Rookie Tablet with Space Ninja | 1.8000x | 1 | ✔ | Tablet |
| 11. | Rookie Mobile in Revenge of the Yolk onward | 1.8750x | 1 | ✘ | Mobile CI3 |
| 12. | Rookie Mobile with Space Ninja | 2.2500x | 1 | ✔ | Mobile CI3 |
| 13. | Rookie Mobile in The Next Wave | 2.2500x | 1 | ✘ | Mobile CI2 |
| 14. | Veteran PC | 0.5000x | 1 | ✘ | PC |
| 15. | Veteran PC with Space Ninja | 0.6000x | 1 | ✔ | PC |
| 16. | Veteran PC with two players | 0.3750x | 2 | ✘ | PC |
| 17. | Veteran PC with two players and Space Ninja | 0.4500x | 2 | ✔ | PC |
| 18. | Veteran PC with three players | 0.3333x | 3 | ✘ | PC |
| 19. | Veteran PC with three players and Space Ninja | 0.4000x | 3 | ✔ | PC |
| 20. | Veteran PC with four players | 0.2500x | 4 | ✘ | PC |
| 21. | Veteran PC with four players and Space Ninja | 0.3000x | 4 | ✔ | PC |
| 22. | Veteran Tablet in Revenge of the Yolk onward | 1.0000x | 1 | ✘ | Tablet CI3 |
| 23. | Veteran Tablet with Space Ninja | 1.2000x | 1 | ✔ | Tablet CI3 |
| 24. | Veteran Tablet in The Next Wave | 0.9900x | 1 | ✘ | Tablet CI2 |
| 25. | Veteran Mobile in Revenge of the Yolk onward | 1.2500x | 1 | ✘ | Mobile CI3 |
| 26. | Veteran Mobile with Space Ninja | 1.5000x | 1 | ✔ | Mobile CI3 |
| 27. | Veteran Mobile in The Next Wave | 1.4900x | 1 | ✘ | Mobile CI2 |
| 28. | Superstar Hero PC | 0.3333x | 1 | ✘ | PC |
| 29. | Superstar Hero PC with Space Ninja | 0.4000x | 1 | ✔ | PC |
| 30. | Superstar Hero PC with two players | 0.2500x | 2 | ✘ | PC |
| 31. | Superstar Hero PC with two players and Space Ninja | 0.3000x | 2 | ✔ | PC |
| 32. | Superstar Hero PC with three players | 0.2222x | 3 | ✘ | PC |
| 33. | Superstar Hero PC with three players and Space Ninja | 0.2666x | 3 | ✔ | PC |
| 34. | Superstar Hero PC with four players | 0.1666x | 4 | ✘ | PC |
| 35. | Superstar Hero with four players and Space Ninja | 0.2000x | 4 | ✔ | PC |
| 36. | Superstar Hero Tablet | 0.7500x | 1 | ✘ | Tablet |
| 37. | Superstar Hero Tablet with Space Ninja | 0.9000x | 1 | ✔ | Tablet |
| 38. | Superstar Hero Mobile | 0.9375x | 1 | ✘ | Mobile |
| 39. | Superstar Hero Mobile with Space Ninja | 1.1250x | 1 | ✔ | Mobile |
V • E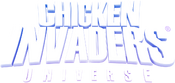 Collectibles
Powerups
Ion Blaster Gift • Neutron Gun Gift • Laser Cannon Gift • Vulcan Chaingun Gift • Lightning Fryer Gift • Plasma Rifle Gift • Utensil Poker Gift • Boron Railgun Gift • Photon Swarm Gift • Positron Stream Gift • Hypergun Gift • Riddler Gift • Corn Shotgun Gift • Atomic Powerup
Food
Drumstick • Twin Legs • Roast • Single Burger • Double Burger • Triple Burger • Quad Burger • Popcorn
Other
Coin • Key
V • E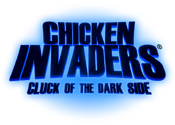 Items
Powerups
Ion Blaster Gift • Neutron Gun Gift • Laser Cannon Gift • Vulcan Chaingun Gift • Lightning Fryer Gift • Plasma Rifle Gift • Utensil Poker Gift • Boron Railgun Gift • Photon Swarm Gift • Positron Stream Gift • Hypergun Gift • Riddler Gift • Corn Shotgun Gift • Atomic Powerup
Food
Drumstick • Twin Legs • Roast • Single Burger • Double Burger • Triple Burger • Quad Burger • Popcorn
Other
Coin • Key • Pollen • Artifacts • Humanity's Greatest Fan
V • E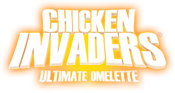 Items
Powerups
Ion Blaster Gift • Neutron Gun Gift • Laser Cannon Gift • Vulcan Chaingun Gift • Lightning Fryer Gift • Plasma Rifle Gift • Utensil Poker Gift • Boron Railgun Gift • Photon Swarm Gift • Positron Stream Gift • Atomic Powerup
Food
Drumstick • Twin Legs • Roast • Single Burger • Double Burger • Triple Burger • Quad Burger
Other
Coin • Key
V • E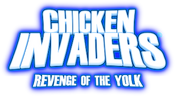 Characters
Playable
The Hero
NPCs
Narrator
Items
Powerups
Ion Blaster Gift • Neutron Gun Gift • Laser Cannon Gift • Vulcan Chaingun Gift • Lightning Fryer Gift • Plasma Rifle Gift • Utensil Poker Gift • Atomic Powerup
Food
Drumstick • Roast • Single Burger • Double Burger • Triple Burger • Quad Burger
Other
Coin