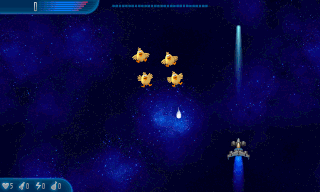 Overheat is a game mechanic that has first apperared in Revenge of the Yolk. It's been added to prevent the player from constantly holding the fire button.
Appearance
The overheat bar is located on the top left corner of the screen, close to score. In Revenge of the Yolk, it consists of a single bar, while since Ultimate Omelette, it is split up into multiple bars, which all eventually fill up. As the bar gets filled up more and more, it becomes redder and redder.
Description
On the top left of the screen near the score counter is the overheat bar. Each regular weapon generates a certain amount of heat. Heat is generated much faster if you use automated fire. When the bar is filled, your weapon will overheat. This will prevent you from firing and leave you vulnerable to enemy attacks until it cools down, which takes 3 seconds. Missiles and Satellites do not depend on this mechanic, so they still can be fired while this is in effect. Collecting Powerups will instantly deplete the overheat bar and remove its effects.
To avoid Overheating, don't use automatic fire, unless manual fire isn't really better. Once the bar is almost filled up, you should wait for a while until it goes down.
V • E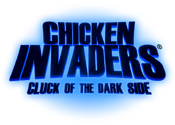 Items
Powerups
Ion Blaster Gift • Neutron Gun Gift • Laser Cannon Gift • Vulcan Chaingun Gift • Lightning Fryer Gift • Plasma Rifle Gift • Utensil Poker Gift • Boron Railgun Gift • Photon Swarm Gift • Positron Stream Gift • Hypergun Gift • Riddler Gift • Corn Shotgun Gift • Atomic Powerup
Food
Drumstick • Twin Legs • Roast • Single Burger • Double Burger • Triple Burger • Quad Burger • Popcorn
Other
Coin • Key • Pollen • Artifacts • Humanity's Greatest Fan
V • E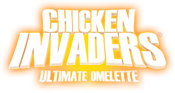 Items
Powerups
Ion Blaster Gift • Neutron Gun Gift • Laser Cannon Gift • Vulcan Chaingun Gift • Lightning Fryer Gift • Plasma Rifle Gift • Utensil Poker Gift • Boron Railgun Gift • Photon Swarm Gift • Positron Stream Gift • Atomic Powerup
Food
Drumstick • Twin Legs • Roast • Single Burger • Double Burger • Triple Burger • Quad Burger
Other
Coin • Key
V • E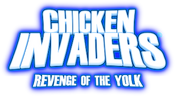 Characters
Playable
The Hero
NPCs
Narrator
Items
Powerups
Ion Blaster Gift • Neutron Gun Gift • Laser Cannon Gift • Vulcan Chaingun Gift • Lightning Fryer Gift • Plasma Rifle Gift • Utensil Poker Gift • Atomic Powerup
Food
Drumstick • Roast • Single Burger • Double Burger • Triple Burger • Quad Burger
Other
Coin