Powerups are collectibles that can aid you in fighting intergalactic poultry and other enemies, either by changing, or upgrading your weapons. They were first introduced in Chicken Invaders (DX Version).
One Award is related to them - the Honourable "Either Brave or Stupid" Award, which requires you to not collect any Powerup in a chapter.
Obtaining
Powerups can spawn out of most enemies and bosses in the series. As it is a powerup, up to two Powerups are able to spawn per wave in regular waves. The number can be increased up to 5 if more players are present. With the Scoring (Limited Powerups) unlockable from Cluck of the Dark Side, you can make Atomic Powerups never spawn. If you have a low enough firepower level, you might receive a Charity bonus, which will make a bunch of Atomic Powerups spawn that can be only collected by you and no one else. They'll be protected with an aura that uses the color of your engine.
Powerups can also be lost. If you happen to lose a life, your firepower will be halved. From Revenge of the Yolk onwards however, there is an exception to this. Beyond ⚡10, you'll only lose 5 firepower levels instead of having them get halved. After a game over in Cluck of the Dark Side, you will have the amount of firepower you had when starting the chapter you died in.
Once ⚡20 is reached, you will receive the Max Power! bonus.
List of Powerups
Trivia
V • E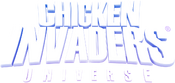 Collectibles
Powerups
Ion Blaster Gift • Neutron Gun Gift • Laser Cannon Gift • Vulcan Chaingun Gift • Lightning Fryer Gift • Plasma Rifle Gift • Utensil Poker Gift • Boron Railgun Gift • Photon Swarm Gift • Positron Stream Gift • Hypergun Gift • Riddler Gift • Corn Shotgun Gift • Atomic Powerup
Food
Drumstick • Twin Legs • Roast • Single Burger • Double Burger • Triple Burger • Quad Burger • Popcorn
Other
Coin • Key
V • E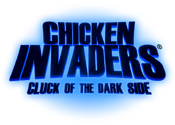 Items
Powerups
Ion Blaster Gift • Neutron Gun Gift • Laser Cannon Gift • Vulcan Chaingun Gift • Lightning Fryer Gift • Plasma Rifle Gift • Utensil Poker Gift • Boron Railgun Gift • Photon Swarm Gift • Positron Stream Gift • Hypergun Gift • Riddler Gift • Corn Shotgun Gift • Atomic Powerup
Food
Drumstick • Twin Legs • Roast • Single Burger • Double Burger • Triple Burger • Quad Burger • Popcorn
Other
Coin • Key • Pollen • Artifacts • Humanity's Greatest Fan
V • E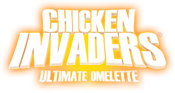 Items
Powerups
Ion Blaster Gift • Neutron Gun Gift • Laser Cannon Gift • Vulcan Chaingun Gift • Lightning Fryer Gift • Plasma Rifle Gift • Utensil Poker Gift • Boron Railgun Gift • Photon Swarm Gift • Positron Stream Gift • Atomic Powerup
Food
Drumstick • Twin Legs • Roast • Single Burger • Double Burger • Triple Burger • Quad Burger
Other
Coin • Key
V • E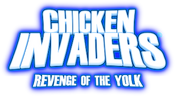 Characters
Playable
The Hero
NPCs
Narrator
Items
Powerups
Ion Blaster Gift • Neutron Gun Gift • Laser Cannon Gift • Vulcan Chaingun Gift • Lightning Fryer Gift • Plasma Rifle Gift • Utensil Poker Gift • Atomic Powerup
Food
Drumstick • Roast • Single Burger • Double Burger • Triple Burger • Quad Burger
Other
Coin