Satellites are dockable machines that can aid the player in fighting chickens. They work similarily to weapons, but they have limited ammo. They were first introduced in Ultimate Omelette.
There are two Awards related to them - the Conspicious 'No Help' Commendation Award, which requires you to not use a satellite in one chapter, and Outstanding 'One Man Army' Medal Award, which requires you to not use them for the entire mission.
Obtaining
They usually are obtained from the Alien Containers that appear over the course of the mission. Alien Containers may drop more satellites, depending on the amount of players present. They may also be restricted to only spawning certain satellites in Ultimate Omelette without the Satellites Rush unlockable. Certain bosses such as those found on planets may spawn satellites before, during and after the fight. Other bosses like the Mother-Hen Ship and the Apple Core can spawn satellites if certain conditions are fulfilled.
If you don't collect a satellite before 10 seconds pass since its spawning, it will disappear. It's also possible to lose satellites once you die, requiring you to recollect them.
In Universe, they can also be bought and docked on your Spaceship to start a mission with them, either in the Galactic Store or the Heroware stores.
Once a satellite is docked, a Satellite Dock bonus will be awarded.
A total of 23 Satellites can be obtained in single player in Ultimate Omelette and 30 in Cluck of the Dark Side.
List of Satellites
Trivia
While the Microgun deals the most damage to a single enemy out of all satellites, the other ones are often better, since they can deal damage to multiple enemies at once (or a single enemy with a sufficiently big hitbox).
V • E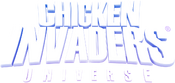 Collectibles
Powerups
Ion Blaster Gift • Neutron Gun Gift • Laser Cannon Gift • Vulcan Chaingun Gift • Lightning Fryer Gift • Plasma Rifle Gift • Utensil Poker Gift • Boron Railgun Gift • Photon Swarm Gift • Positron Stream Gift • Hypergun Gift • Riddler Gift • Corn Shotgun Gift • Atomic Powerup
Food
Drumstick • Twin Legs • Roast • Single Burger • Double Burger • Triple Burger • Quad Burger • Popcorn
Other
Coin • Key
V • E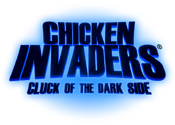 Items
Powerups
Ion Blaster Gift • Neutron Gun Gift • Laser Cannon Gift • Vulcan Chaingun Gift • Lightning Fryer Gift • Plasma Rifle Gift • Utensil Poker Gift • Boron Railgun Gift • Photon Swarm Gift • Positron Stream Gift • Hypergun Gift • Riddler Gift • Corn Shotgun Gift • Atomic Powerup
Food
Drumstick • Twin Legs • Roast • Single Burger • Double Burger • Triple Burger • Quad Burger • Popcorn
Other
Coin • Key • Pollen • Artifacts • Humanity's Greatest Fan
V • E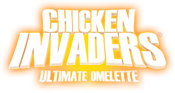 Items
Powerups
Ion Blaster Gift • Neutron Gun Gift • Laser Cannon Gift • Vulcan Chaingun Gift • Lightning Fryer Gift • Plasma Rifle Gift • Utensil Poker Gift • Boron Railgun Gift • Photon Swarm Gift • Positron Stream Gift • Atomic Powerup
Food
Drumstick • Twin Legs • Roast • Single Burger • Double Burger • Triple Burger • Quad Burger
Other
Coin • Key